Best Long Island Maternity Photographer
Best Long Island Maternity Photographer
As the Best Long Island Maternity Photographer I get asked a lot of questions about how a maternity photoshoot works.
Below is a list of questions that i most frequently get asked.
When is The Best Time to Take Maternity Photos?
When clients inquire with me about a maternity photoshoot, quite often they are either thinking about scheduling way too early or way too late during the pregnancy. If they are thinking about doing it early (usually around the 4th or 5th month) it's usually because they are either looking to have a photo for their pregnancy announcement or simply because they are worried that the belly will be too huge for the photoshoot and that . The problem with this is if you have your maternity photos taken too early, you may not look very pregnant at all. On the other extreme, clients consider doing it too late because they want that big baby bump. What they don't realize is just how uncomfortable those last two months of pregnancy can be. Most pregnant women complain that they look and feel too swollen. Also walking around and posing is VERY uncomfortable. And if it is summertime, it's even way worse.
The best time to take maternity photos is around 30-34 weeks. Around this time you will look round and look visibly pregnant, but not so pregnant that you can't move! In addition, posing, moving and walking around will still feel comfortable.
Another important thing to keep in mind is that after 35 weeks there is a risk of going into labor early. I have had clients go into labor shortly after there maternity shoots. In one case i delivered a beautiful gallery of photos to my client days after her session, only to learn that she had just went into labor! Talk about perfect timing!
Where will the Maternity Photo Session Take Place?
Choosing a location for your maternity photos can be a personal decision. While I love shooting outdoors at various parks around Long Island and NYC, ultimately it is your choice. The season of the year and the weather may also have affect your decision. During cold winter months many clients prefer to have their maternity photos taken inside the studio. Some people just don't like the cold! Studio maternity also is sometimes preferred for those that like the clean look of a white or dark background. Studio sessions also allow for some creative lighting set-ups. Currently I have two studio locations, one in Bellerose, Queens and the other in Plainview, Long Island. Both locations are conveniently located about 3 minutes off of the highways. They are both also close to a neighborhood park, allowing us to take advantage of both the outdoors and indoors depending on the package you choose.
As far as outdoor locations are concerned, there are many locations that I love to photograph in both Long Island and NYC. Some of the obvious ones in NYC are Central Park or Dumbo, Brooklyn. Although these locations tend to be a bit crowded, there is just so much variety in both these locations. Other locations that I have photographed are Kissena Park, Flushing Meadows Park, Forest Hills Park, Roslyn Park, Robert Moses Fire Island, Long Beach, Sunken Meadow Park, Jones Beach, Old Westbury Gardens. I am also open to suggestions if you have any. I love exploring new parks and beaches. Just keep in mind that certain parks, beaches and locations may require a permit to take photos there. It is your responsibility to obtain and pay for any permit if required.
Do I need to have Hair and Make-up Done?
I will leave this decision up to you as it will solely depend on the type of session you are having. Some maternity shoots are very glam with long flow gowns, while others are more casual. I always do prefer some makeup and hair to be done for your photos. You can either do this yourself if you are good at it, or have a friend do it for you. If you are not good at doing your own hair and/or makeup, or just want it professionally done then I can make suggestions for some wonderful hair and makeup stylists that I work with.
Can I bring my spouse, partner child or pet with me for some of the maternity photos?
Yes! Absolutely.
I completely understand wanting to having these important people in your photos. This is a special time for you, your partner and your family and having them included in some of the photos is important. Pets can be important to, after all they are like family. We can discuss all of this when planning your session.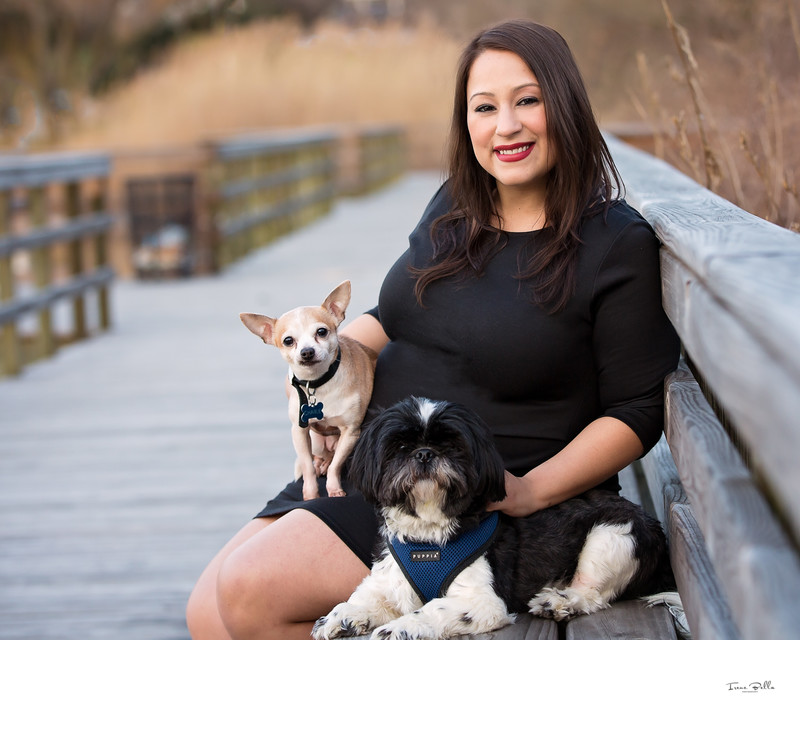 Can I bring props for my Maternity Shoot?
Some clients like or want to include props such as balloons, banners, custom signs, ultrasound photo, baby shoes into their photo session. While cute and possibly meaningful I find that it takes away from the main focus....you and your pregnancy. My main goal is to create beautiful maternity photos of you during this special time in your life rather than surround you with props.
With that said I will absolutely take a photo or two with any prop that you may have if you so desire, but I do prefer to keep the props to a minimum. A quick photo or two with either the baby shoes, your ultrasound or a custom sign is more than enough.
How do I book a Maternity Photoshoot with you?
Once you are ready to book your maternity shoot, you can contact me here.
I will set up a small consultation via telephone if possible to go over any additional questions you may have about the shoot.
We will also discuss:
Your hair and makeup needs
Location(s) of your photoshoot
Your wardrobe and styling, what to bring and what I can bring for you
Anyone else that will be in your photos and how we will style them
After that I will send you a contract and request a deposit to reserve your date.
Congratulations on your pregnancy and this special moment in your life. I look forward to hearing from you soon!
Location: Roslyn, NY.