Tips for a great Boudoir photo experience.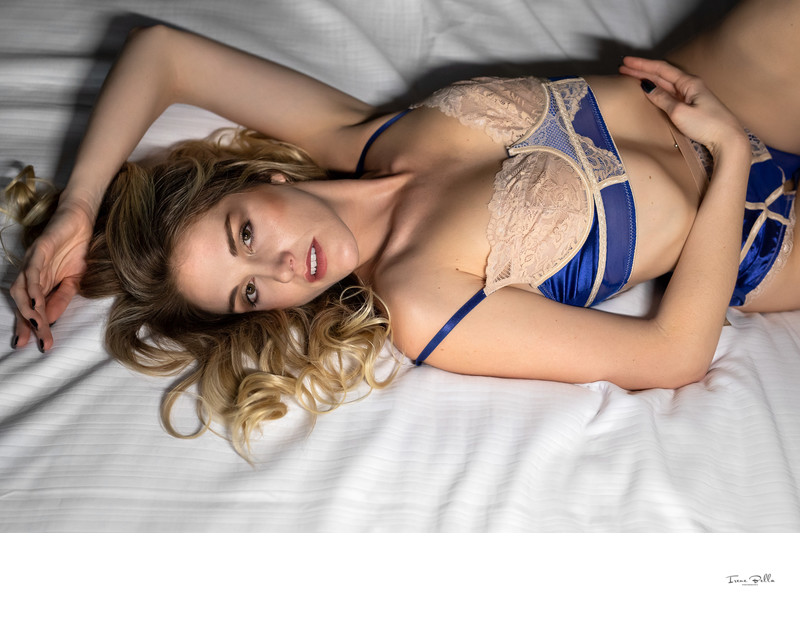 It is important to have a good understanding of what bridal boudoir photography is. Many people are under the impression that boudoir requires the woman to be naked or almost naked, however this is not true. How much or how little clothes you wear and how you pose is completely under your control. Boudoir shoots make great wedding and/or anniversary gifts for your partner and for yourself! This photo shoot may be a once-in-a-lifetime opportunity so make sure that you are prepared so to get the best results.
Find the right photographer.
When it comes to doing your boudoir photoshoot, one of the most important things is your comfort. Some women will ask their wedding photographer to do their boudoir shoot, while others prefer hiring someone else for this personal shoot. Since boudoir photography has become very common, there are photographers that specialize in it. Some women will naturally feel more comfortable being photographed by a woman while for others it doesn't matter if the photographer is male or female. Just be sure that you are comfortable with whoever is going to be taking your boudoir photos.
What to wear or not wear.
Since comfort is the most important thing when doing a boudoir photoshoot you will want to make sure that you are comfortable in your wardrobe. And I am not necessarily referring to comfort in regards to fit of the clothing, but that you are comfortable wearing outfits of your choice. For many women, this type of photo shoot is completely new so it might take you out of your comfort zone. A boudoir shoot is mostly about celebrating your body and your beauty so you will want to think about your outfits and what outfits you will feel comfortable wearing. You don't need to necessarily wear lingerie for a boudoir shoot. There are many beautiful outfits and dresses that you can wear to your shoot and still feel sexy.
Feel your best.
A big part of getting great boudoir photos is confidence. Many women chose to get their hair and make up done professionally before their shoot. This can help women feel like the supermodels that they are! I therefore highly recommend that you get professional hair and make-up done for any boudoir or glamour photo session.
What to do with the pictures.
There several ways to gift your boudoir photos to your partner. You can get some of the pictures from your shoot printed and hide them for your husband to find or you can get a few framed. Or, you can create a collection of your favorite photos with a photo album. It is a very good idea to get a professional quality boudoir album so that you can preserve this special photo shoot for years to come. These photo albums serve as great wedding or anniversary gifts. And is a tangible item unlike digitals.
Bridal boudoir photography is a great way for women to celebrate their bodies and feel good in their skin, and of course it makes for a great gift for their partner. I hope that these tips will help you get the best results so that you feel comfortable and confident throughout this experience,